The role of the ISO 56000 standard 
For the organization to be in working order and oriented towards value creation objectives, an Innovation Management System can be set up, with the help of innovative solutions. The normative reference for this implementation is the ISO 56000 standard.
The ISO 56000 standard is an essential guide for innovation management. It is part of the category of "Management System" standards, just like ISO 9000 for Quality Management, ISO 14000 for Environmental Management and ISO 27000 for Information Security Management. More specifically, it is an Innovation Management System standard.
This standard is a unified document that aims to explain to everyone how Innovation Management works and promote good practices in this field. It offers many benefits to those who wish to implement Management System standards. The ISO 56000 standard was developed by industry experts, with Alice de Casanove, Chair of the ISO 56000 technical committee and Director of Culture and Intrapreneurship at Airbus North America. It is therefore the result of collaboration between professionals in the field, making it a practical guide, rather than a restrictive standard. The ISO 56000 standard also guides the establishment of innovation strategy in organizations, providing a solid reference for building a guided and effective strategy.
Overall, this standard is detailed and provides tools, vocabulary and best practices that can help organizations improve their innovation management. In short, it is a valuable resource for anyone looking to make progress in this area.
Supporting organizations in their innovation process
The ISO 56000 standard is designed to help organizations structure and/or improve their innovation process and innovation management.
This standard offers a comprehensive approach to innovation that applies to all types of organizations, whether they are associations, companies or public institutions.
By adopting the ISO 56000 standard, companies can ensure that innovative products are developed through an integrated approach to innovation at all levels of the organization, creating opportunities for development. In addition, it also provides a system for managing the people, processes and technologies involved in innovation.
A major advantage of the ISO 56000 standard is its ability to be adapted to the corporate culture. This facilitates the appropriation of the elements of the standard and the implementation of an effective innovation process. Also, the standard encourages continuous improvement.
Finally, the standard is a best practice guide that provides recommendations and suggestions, rather than requirements. This allows organizations to better understand their strengths and weaknesses, and then define clear and practical improvement paths.
The use of the ISO 56000 standard at LACROIX
For the implementation of its Innovation Management System, LACROIX relies essentially on ISO 56000 (Essential principles and vocabulary) and ISO 56002 (Innovation management system – Recommendations).
This structure meets the need to standardize internal processes for R&D and Marketing teams spread over 9 sites in France, Spain, Germany and Belgium. To achieve this, operations must be rigorous and processes must be identical for everyone in the Group.
To ensure that innovation processes interact in an optimal way, the ISO 56000 standard establishes a link between the different departments involved. It takes into account key aspects such as context, leadership, improvement, planning, performance, operational and support to ensure that innovation results are positive and that the company progresses towards its objectives.
At LACROIX, we have broken down operations (turning opportunities into value) into two distinct processes. On one hand, innovation projects with a very exploratory component aiming at identifying opportunities, creating concepts and validating interests… and on the other hand, the part aiming at validating concepts, developing solutions and deploying them is organized according to the LPLP (LACROIX Product development & Lifecycle management Process).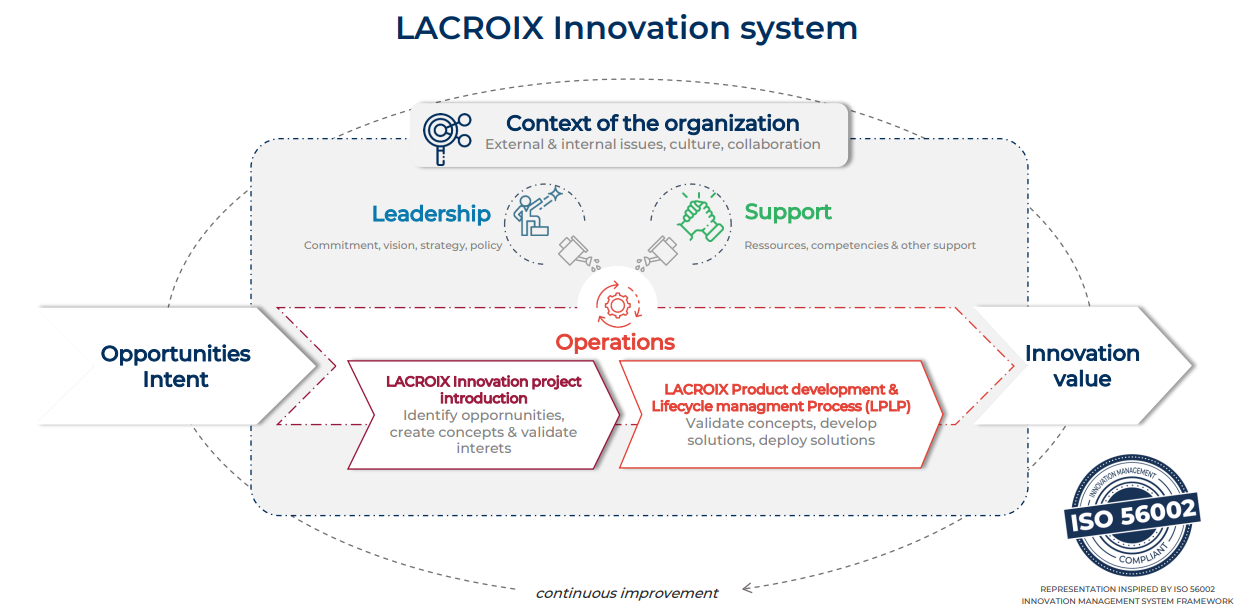 To deliver these operations, leadership is essential. It must focus on the vision and strategic plan, the technology and product roadmap, and policy. It is also important to understand and master the context of the organization, including the competition, stakeholders, internal and external collaboration, and the culture of the organization. The Leadership 2025 strategic plan is the reference for the innovation strategy.