Hello Stéphane, tell us about your career path !
After a DUT (Diplôme Universitaire de Technologie [French university degree in technology]) in logistics and transport management, I enrolled in the École Supérieure de Logistique Industrielle [Graduate School of Industrial Logistics] near Rennes, France. After graduating, I first worked for an Airbus subcontractor in Nantes, France. I was responsible for inventory management and purchasing of materials for building maintenance. I then worked as a procurement officer for a central purchasing agency in Northwestern France which specialises in spirits.
I quickly found that I wanted to move closer to the production chain in an industrial environment in order to truly play a larger role in manufacturing. That is how I came to apply for a position at LACROIX Electronics. This position came with many challenges. I arrived here in December of 2017.
Spirits and electronics are two very different fields. How did you handle going from one to the other?
I really did not know much about electronics. However, whether it is spirits or electronics, the skills required for a position such as mine remain the same: inventory management, knowledge of various procurement processes, forecasting, etc.
Working in the electronics industry has a more technical side to it, I was fortunate to have four weeks of support as I was familiarising myself with this new field. I quickly felt that I was part of the team. I gained a better understanding of production operations at LACROIX Electronics thanks to a week spent immersed in the production facilities. After a day in reception, another in component preparation and a final day on the production line, I had a broader view of the factory's organisation.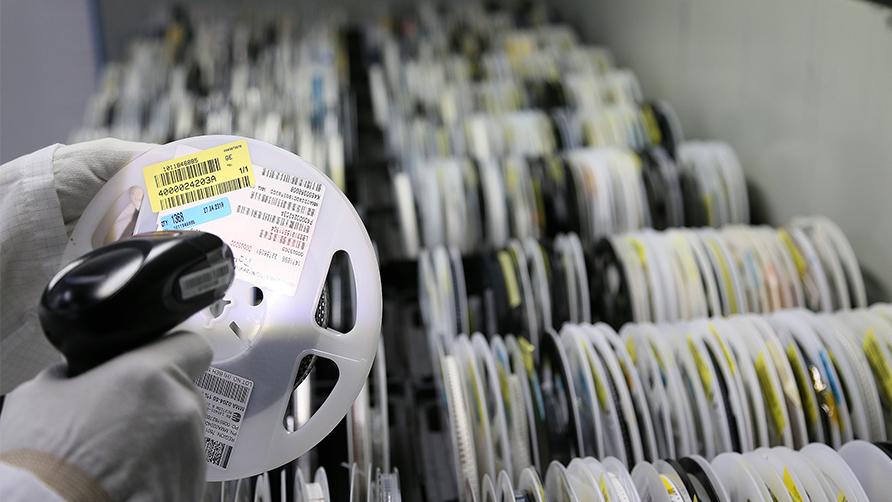 Can you tell us more about your position?
I work in a team of about a dozen employees. My job consists of:
Ensuring that the necessary materials and components for manufacturing the circuit boards and electronic sub-assemblies which fall under my responsibility are available, within set time limits. To assist me in my mission, I have a powerful IT tool: SAP management software. It allows me to best adjust to customer needs with the volumes to be ordered.
Fine-tuning the orders based on many parameters. For example, we must make sure that a price change does not impact the conditions negotiated with our customers.
Avoiding stock shortages. With the current component shortage in the industry, I must pay very close attention to the availability of components in sufficient quantity from our suppliers. Adding additional suppliers is a solution that mediates this risk.
Lastly, carrying out a continual technological watch to warn of a component's obsolescence.
In brief, the challenge in my job is ensuring continued production, which requires being proactive.
What motivates you at LACROIX Electronics?
In my position there are daily challenges. In fact, my department is one of the strong links in the production process, given that the component is the key element in all production. I also enjoy the transversal nature of my position and the continual exchanges with other departments it requires.
For example, I work in concert with the planning department to prepare a consistent procurement plan based on customer needs. I must also work jointly with the purchasing department to increase supplier performance and rate of service while optimising inventory levels. Or I have to be able to offer alternatives to our customers' production engineering department in the event of an upcoming disruption in the procurement of a component.
Eventually, proper organisation of the Supply Chain depends in part on the company's performance. A broad view of production is essential to be able to understand production mechanisms, but is also crucial to anticipate the needs of each department.