The boom of French Tech
In addition, in 2021, the French Tech ecosystem is expected to have raised more than €10 billion, which is a record for French entrepreneurs. This enthusiasm that investors have for French unicorns can be explained by a resurgence of French-style innovation, as shown by the increasing number of start-ups that have reached unicorn status, a figure that has risen from 3 in 2017 to 19 in 2021.
More than just a method of investment, an entire network of start-ups has been created in recent years, driven by government action and a paradigm shift in the mentality of the French, who are more and more likely to embark on an entrepreneurial adventure. In spite of the health crisis, business creation increased by 6%, while economic activity fell by 10%.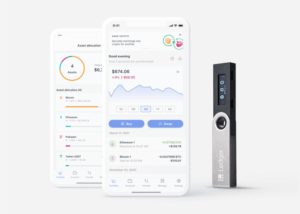 Launched in France in 2014, LEDGER is the world leader in securing and managing digital assets. This scale-up designs and markets hardware and software products and services for individuals and businesses.
The current situation in relation to the democratisation of cryptoassets, as well as the exponential growth in demand for LEDGER's hardware wallets – more than 3 million units have been sold to date and 15% of digital assets worldwide are protected by a LEDGER key – has called for a change in production capacity for the Tech unicorn.
In response to the huge rise in demand, LEDGER decided to partner with LACROIX to produce its Nano S and X products locally.